Arima Sanso Gosho-bessho – ARIMA SANSO TOCEN Reconstruction of Old Arima Onsen style.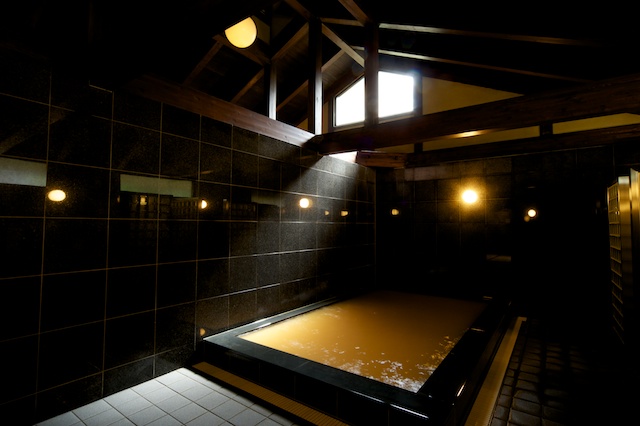 Separate bathing areas for women and men, each area has a cozy pool full with the holly waters of Arima golden hot-spring. The "First Bathhouse", or, "Ichi no Yu" and the "second bathhouse", or, "Ni no Yu" are an inspiration from the old public bathhouse of Arima Onsen during the 14th century, when the hot-spring waters were available only in that bathhouse which was divided into two sections: "the first" and "the second". At that time, Goshoboh's managing family held the position of "Yu Nushi" or " protector of Arima Hot-springs", and the main Inn Tocen Goshoboh was next to the hot-spring source and connected to the "first bathhouse", and guests staying at Goshoboh had exclusive access to the First bathhouse. Today, guests at Gosho Bessho can soak in the cozy and profound pools, relax, and let their minds quiet remembering the old times of Arima Onsen.
| | |
| --- | --- |
| Guests staying at the inn | 15:00 ~ 24:00 , 6:00 ~11:00 of the following day |
The KONGOSEN BATH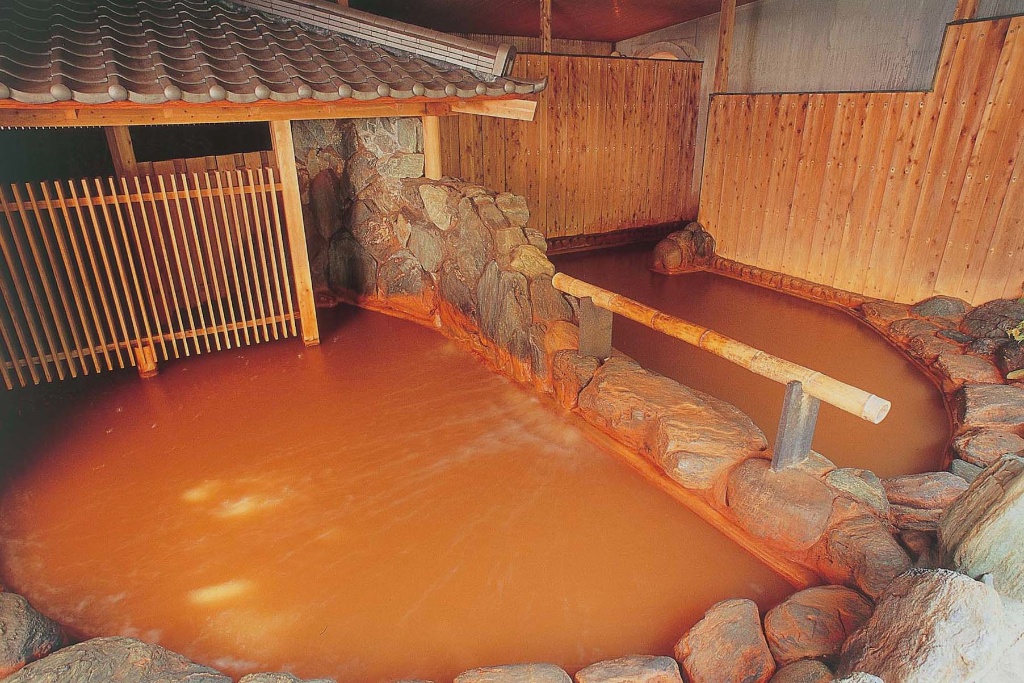 Half open-air & half men-women mixed
Guests staying at Gosho Bessho can exclusively access to the "Kongosen Bath" at the sister Inn "Tocen Goshoboh", which is 3 minutes walk. The Kongosen Bath is half open-air, with a playful structure that allows men and women sections to meet through a stone wall that gets lower toward the far end of the pool so that guests can easily talk over the wall if they like. Or, they can move over to a more private area if they prefer so.The specific dark color of the waters, and the slight, shadowed lightening recreate a deep mood of relaxation, contemplation, and intimacy.
Guests staying at the inn
15:00 ~ 9:30 of the following day (free)
Guests staying at sister Inns (Hana Koyado & Gosho Bessho)
15:00 ~20:00 (free)
Guests on day visit
11:00 ~14:00
Charge
¥1,575 per entrance
The charge includes a rental of a face towel.
Rental of large bath towel
¥315
Gosho-bessho Private Thermal rooms
All 10 villas have an en-suite private thermal room.
The thermal room is not a hot-spring bath, but a room with a stable temperature of 38 degrees, which is the best environment for body detox, and strengthening the immune system.
The temperature is lower than the sauna, hence, it is easier to relax in the room for a longer period while reading a book, listening to music, enjoying some Aroma therapy, meditating, or chilling out with some TV shows.
Hot-spring
| | |
| --- | --- |
| source | Gosho sengen and Uwanari sengen |
| Hot-spring type | Strongly basic ferruginous sodium chloride spring of a high temperature. |
| Contraindication | Acute disease ( especially in case of fever), active tuberculosis, a malignant tumor, severe heart disease, respiratory failure, renal insufficiency, hemorrhagic disease, serious anemia, other progressive diseases, pregnancy (especially the beginning and end) . |
| | |
| --- | --- |
| Properties | Colorless and transparent, however once it gets to the surface, it oxidizes and becomes iron-orange. It tastes salty and metallic, and is almost odorless.Therapeutic effects on: External wound, Burn injury, chronic dermatitis, child Physical weakness, chronic adnexitis, menstrual disorder, neuralgia, muscle ache, joint ache, frozen shoulder, motor paralysis, joint stiffness, bruise, sprain, chronic digestive disease, hemorrhoid, excessive sensitivity to cold, rheumatism, recovery from illness, soothing effect, health enhancement. |