A strongly basic ferruginous sodium chloride spring with amazing therapeutic and beautifying properties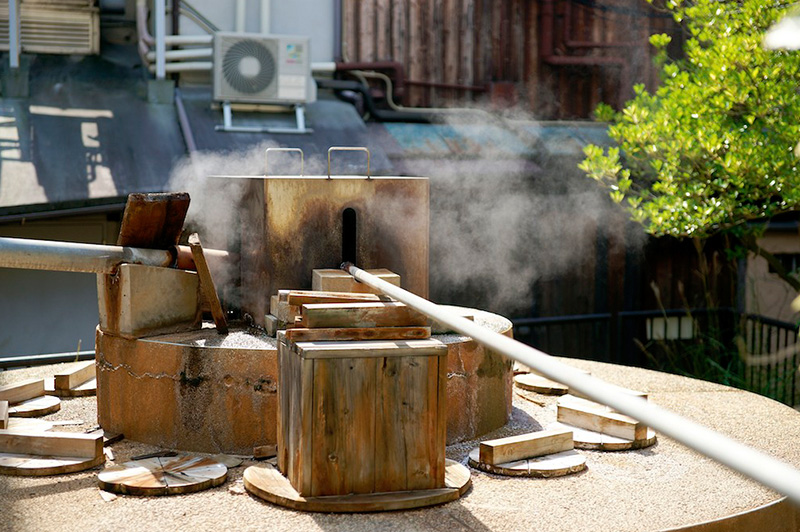 Arima Onsen has a history of more than 1300 years, and is considered the oldest spa area in Japan. According to the Nihonshoki (Chronicles of Japan), Arima-Onsen Hot Spring has existed since the age of gods, and was discovered when the two Shinto divinities Onamuchi-no-mikoto and Sukunahikona-no-Mikoto saw that three injured crows were cured after they soak in the thermal waters. History of the Onsenji Temple in Arima, says that the Saint Gyogi was also guided to Arima Hot-spring by the help of Buddha, and that is why it is believed that Arima Onsen is protected by the Medicine Buddha also called "Yakushi Nyorai". Since its discovery, people have travelled from allover Japan to soak in the holy and miraculous hot-spring that cures illness, and many emperors and historical figures have been fond of the place and practically lived in Arima.
Arima has three types of hot-springs, among which the " Kinsen", or "golden hot-spring" is the most famous. A part from its soothing warmth ( original temperature 98°C, controlled at 40 °C), and its relaxing golden-clay color, Arima golden hot-spring is a strongly basic ferruginous sodium chloride spring with far more healing properties. As for its beauty benefits, the thermal water is at first, weak acidic, mild and gentle on sensitive skin, leaving it without a taut feeling, then minutes later, it changes to weak alkaline, leaving skin smooth and moisturized.
Since the Kamakura period ( 12th century), Goshoboh has all the time been by the side of the hot-spring source, with exclusivity of the best fresh hot-spring. Today, Goshoboh has developed a system that uses the thermal waters from " Gosho sengen" and "Uwanari Sengen", two of the best hot-spring sources in Arima. Only pure natural hot-spring waters are used with no addition and no artificial heating. The color, temperature, active minerals and natural ingredients are at their best.
| | |
| --- | --- |
| Source of Hot-Spring | Gosho Sengen and Uwanari Sengen |
| Gosho Sengen | |
| Type of Hot-spring | Strongly basic ferruginous sodium chloride spring.(hypotonic, neutral, and high temperature) |
| Temperature | 79.3℃ (Air temperature 33℃) |
| Evaporation Residue | 15.03 g/Kg (180℃) |
| Uwanari Sengen | |
| Type of Hot-spring | Strongly basic ferruginous sodium chloride spring.(hypotonic, neutral, and high temperature) |
| Temperature | 79.3℃ (Air temperature 29℃) |
| Evaporation Residue | 31.15 g/Kg (180℃) |
| Therapeutic effects on | External wound, Burn injury, chronic dermatitis, child Physical weakness, chronic adnexitis, menstrual disorder, neuralgia, muscle ache, joint ache, frozen shoulder, motor paralysis, joint stiffness, bruise, sprain, chronic digestive disease, hemorrhoid, excessive sensitivity to cold, rheumatism, recovery from illness, soothing effect, health enhancement. |
| Contraindication | Acute disease ( especially in case of fever), active tuberculosis, a malignant tumor, severe heart disease, respiratory failure, renal insufficiency, hemorrhagic disease, serious anemia, other progressive diseases, pregnancy (especially beginning and end). |